Chances are your Amazon account is full of unused, expired credit cards over the years of operating the account. The first thing on your mind is now to do some credit card cleanup and remove any unnecessary credit cards still living on the Amazon account. Fortunately for you, the process of removing credit cards on Amazon takes only 3 simple clicks.
How to remove credit cards from Amazon.com
The first step is to login to your Amazon account. Once you are logged in, navigate to the drop down menu on the top right side that populates upon mouse hover labeled "Account & Lists." You should start to see a drop down similar to the below screenshot, populate.

Once you have clicked on "Your Account," you will be taken to a dashboard similar to the screenshot below. Now, simply select "Payment Options."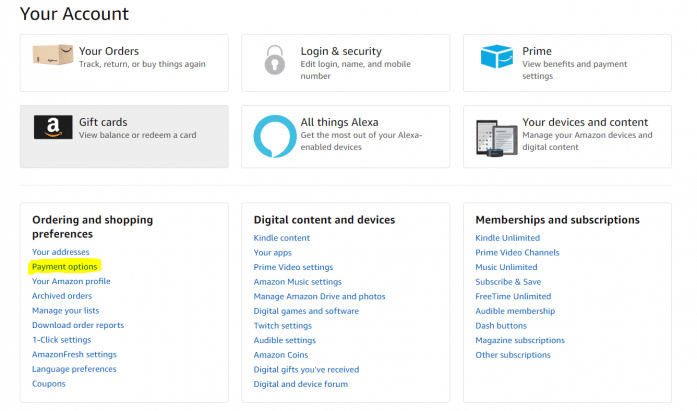 Once you have clicked on "Payment Options," you will now be taken to a view with all your credit cards attached to your Amazon account, old and new. The final step is just to select any credit cards you want removed and there should be an option to "Remove" the selected credit card. And that is it. You have now successfully deleted your credit card from Amazon.