What is Vechain?
A Singapore-based cryptocurrency focused on tracing supply chains, Vechain (VEN) is an Internet of Things (IoT) proect that already has some functioning use cases for luxury goods. By connecting technologies like RFID, NFC, QR codes, or even bar codes to a blockchain, items can have a universally readable identity. This allows them to be tracked back to their origins and prevents counterfeiting, as blockchain entries cannot be duplicated.
The development team's most prominent application so far has been its work with Price Waterhouse Coopers and D.I.G., China's largest fine wine importer, to stop counterfeit wines. The developers will soon be expanding beyond supply chain uses, however. They are rebranding as Vechain Thor and are adding the ability to run decentralized apps, much like Ethereum.
How does Vechain work?
The project's premise is that you should be able to see the history behind things. Each product is given an ID that sensors can scan wherever it goes. These sensors then feed this data into the blockchain for permanent storage and accessibility.
Like most other cryptocurrencies, ownership of an asset on this blockchain is determined using codes called private keys. If a company, say, Fine South African Wines, makes a bottle of wine, they can use their private key to claim ownership of the bottle. The bottle's ID is then scanned in at a wholesaler, then at a retailer, who sells it to a customer. The customer can scan the code on the bottle and confirm that the product originated from Fine South African Wines. A counterfeit wine would not be able to fake its history.
Though it remains mostly decentralized, this cryptocurrency runs on something called "Proof of Authority." While most blockchains are supported by whoever chooses to do mining work (Proof of Work) or is holding coins (Proof of Stake), Vechain's approach is a little different. Under Proof of Authority, there are several "masternodes," and several categories of lower-rank nodes, all of which require that the node operator meet various criteria in order to authorize transactions.

Recent major developments
The coins are changing in the "Thor" rebrand. Their old token, VEN, is becoming VET. Another coin, Thor, is being introduced. Smart contracts will be made and executed using THOR, and when the contract is complete the payments will be completed in VET, enabling decentralized applications to be built on top of the base blockchain.
As major as the rebrand is, the recent partnership with the government of Gui'an, a Chinese province, may be even more significant. China's government is not friendly to cryptocurrencies, but it has contracted with this one to track wine and liquor—a promising policy relaxation.
Private support is also growing steadily: the project has accumulated a significant number of partnerships, from being part of the Price Waterhouse Coopers' incubator to connecting with DNV GL, the world's largest registrar and classification society.
How to buy VeChain
VeChain's coin is mostly bought and sold on Binance. You can't buy it with fiat currency yet (USD), so here is a quick guide on how to buy VeChain starting with fiat:
1. Buy Bitcoin or Ethereum at an exchange that uses your fiat currency on Coinbase.
2. Transfer your BTC or ETH to an exchange that supports VeChain. Currently, Binance is the best choice. (Tip: if you bought BTC/ETH on Coinbase, look into using GDAX to avoid transfer fees)
3. Buy VeChain by trading your BTC/ETH for their coin, and you're done!
Fun fact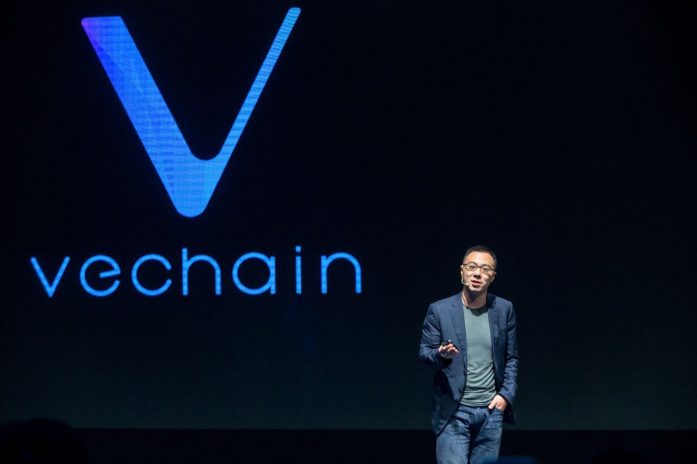 Prior to founding Vechain, Sunny Lu was a co-founder of China's largest blockchain technology company, BitSE. Before that, he was COO and CIO at Louis Vuitton's China branch.