Advertiser Disclaimer
This blog post may contain references to products or services from one or more of our advertisers or partners. We may receive compensation when you click on links to those products or services.
---
Uber Eats is dominating the food delivery industry, especially during times of the COVID-19 pandemic. What this means is that more than ever, Uber Eats is hiring more drivers to meet the demand of consumers using their app for food delivery. In other words, there is more tip money to go around for drivers – increased pay per food delivery. There are some cases due to the increase in the sheer volume of orders and higher tip amount per customer that I was able to net $25/hour delivering with Uber Eats.
The pandemic has definitely surprised the world and impacted many businesses. However, in the case of Uber Eats, its food delivery service business is booming. That may all be great information and all, but you may be asking yourself, how much can you make with Uber Eats? Fortunately, I wrote up this starter guide to help you get more familiar with the popular food delivery app and how to begin making extra money on the side.
What is Uber Eats?
Uber Eats is an on-demand food delivery service app that connects drivers with local participating restaurants and merchants to deliver food. Sounds simple right? The customer orders on the Uber Eats app and on the driver end, the order will appear. Uber Eats makes money by taking a small percentage cut of the transaction, but ultimately the driver takes home the majority of the pay and on top of any customer tip.
---
Become an Insider
---
What do Uber Eats drivers do exactly? What to expect?
The job of a Uber Eats deliver sounds simple, but to go over the job description, here is a quick overview.
Pick up and deliver food from the restaurant to the customer in a timely matter
Provide customer service and updates on the status of a food order if it is taking longer than normal waiting time
Uber Eats is a gig-based economy app, meaning that the time your work is flexible according to your own schedule. You only make money and commission for each completed order. There is no hourly base pay. It is all hustle and bustle
You want to provide good customer service and deliver in a timely manner to get a good customer tip. The tips add up and make a good 20-40% of your pay typically depending on your region.
You can Uber Eats with a scooter or bike. You don't necessarily need a car to deliver with Uber Eats, but it helps and will only increase your volume of orders and the end of day pay.
By joining to become a driver for Uber Eats, you can opt for only orders for food deliveries and none of the ride-sharing services, or vice versa. The choice is yours on what you are comfortable with.
Safety is a 1st with Uber. Uber prioritizes the safety of its drivers so the app has been tested for user experience. Thus, there is little need to touch your phone when you are on the road. Uber even provides some liability insurance to some of their drivers free of charge and provide their own GPS map on their app (no need to switch been Google Maps on the road).
There are three options for food delivery: Curbside drop-off, delivery to the door, and no-contact delivery.
Uber Eats customer service is a phone call away if you ever run into a question or issue with your food order. Contacting Uber Support is quick and easy.
What are the Uber Eats car driver requirements to join?
Uber Eats has some car driver requirements in order to join their network. Below are some of the checks Uber looks at to ensure all drivers are screened and eligible to work for the safety of the entire gig economy ecosystem and to deliver quality service to the consumer.
You must be 19 years old or older (21 years old in Canada)
You must have a driver's license, insurance, and proof of vehicle registration
1 year of license history
Vehicle requirements: 20 years old or newer
Must be able to lift up to 30 pounds
Bicycle and scooter delivery is available in some larger cities
Bicycle partners must be 18 years or older
Which pays more? Uber Eats vs DoorDash vs Postmates vs Grubhub?
I'm glad you asked the question of which food delivery app pays more. Happy you are already thinking about maximizing your profit margins because ultimately every little bit adds up. Read more about which food delivery company pays more on a piece that has already been covered, Uber Eats vs DoorDash vs Postmates vs Grubhub on driver pay.
How much can you make with Uber Eats
The breakdown of how Uber Eats compensates their driver is fairly simple and comes down to 4 touchpoints.
Base fare: Pay for pickup, drop-off, time, and distance
Trip supplement: Added to base fare to account for extra time, distance, demand
Promotions: Boost and surge earnings (ranges up to 3x the regular base pay)
Tips: Drivers keep 100% of tips. Customers can tip in the app before or after an order
Uber Eats payout = Base fare + trip supplement + promotions + tips
Apply referral code carolynn207ue to be eligible for the Uber Eats sign-up bonus.
An alternative to food deliveries is to Drive for Uber. If driving passengers is to your liking more, apply the referral code, carolynn207ue to receive a sign-up bonus for driving passengers to their desired destinations.
How much can I expect to make with Uber Eats during the COVID-19 pandemic?
Due to the nature of the pandemic, more customers are tipping higher amounts because they feel for the drivers. As a result, you are very capable of working a $25/hour pay rate if you complete all your back-to-back deliveries with Uber Eats. All the tip money is 100% yours to keep.
Quite simply, Uber Eats is the most popular food delivery app service due to the sheer number of consumer and driver base. The volume of food orders is more than DoorDash, Postmates, or Grubhub, which is what makes Uber Eats stand out from the rest at the end of the day. In other words, when you join Uber Eats, you are joining a very busy network with lots of earning potential and opportunities to work. It is only a matter of effort.
What if I don't have a car? Can I use a rental car to make money?
The answer is yes. We recommend using an established car rental program in HyreCar. HyreCar is the leading car rental company for gig economy gigs like Uber Eats, DoorDash, Postmates, and Instacart. Take advantage of this limited offer from HyreCar and claim a car rental today.
---
Find out the best stocks to buy in 2022
Join 200,000+ subscribers today and claim a free 14-day trial of Seeking Alpha Premium. Cancel anytime.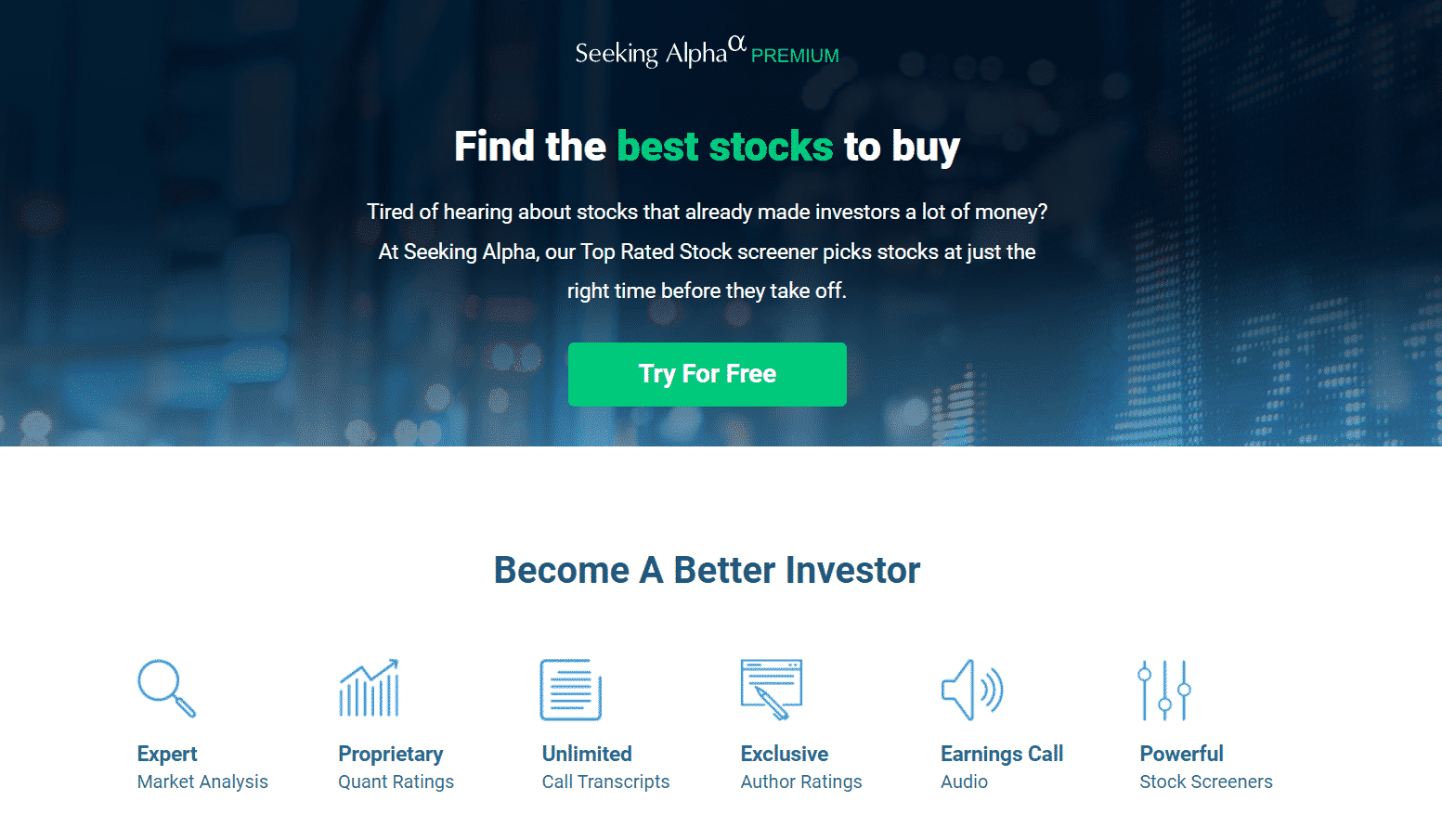 ---
Editorial Disclaimer: The editorial content on this page is not provided by any of the companies mentioned, and has not been reviewed, approved or otherwise endorsed by any of these entities. Opinions expressed here are author's alone
The content of this website is for informational purposes only and does not represent investment advice, or an offer or solicitation to buy or sell any security, investment, or product. Investors are encouraged to do their own due diligence, and, if necessary, consult professional advising before making any investment decisions. Investing involves a high degree of risk, and financial losses may occur.
---