Advertiser Disclosure
This blog post may contain references to products or services from one or more of our advertisers or partners. We may receive compensation when you click on links to those products or services.
---
A personal problem that I encountered recently and successfully tackled is how to remove mildew smell from laundry so I wanted to take the time to briefly share what worked for me in removing mildew smell from my clothes.
This post will be rather brief, but a life saver for those still searching for a detergent solution in effectively removing the mildew smell from their clothes. The results are game changing.
My personal battle with removing mildew smell from my clothes
For the longest time, I have been using generic laundry brands and liquid detergent from brands from Costco, Tide, and Persil, and have found that the results vary drastically depending on the product line I used across brands. Although liquid detergent was the most convenient for me to use for my washer, I have found that it was the least effective in removing the mildew smell from my laundry so I started experimenting with new detergent products and started using Tide Sports Pods. Once I did, I never went back to using liquid detergent.
Which product did I use to remove the mildew smell from my clothes?
Tide Sports Pods were the product I used to remove the mildew smell from my clothes. The formula in the detergent product simply washed away and removed the odor smell of every clothing item I threw at it. Whether it be clothes that sat in the washer soggy for a couple of hours or active gym clothes with sweat stains, the Tide Sports Pods were a game-changer for my laundry regimen.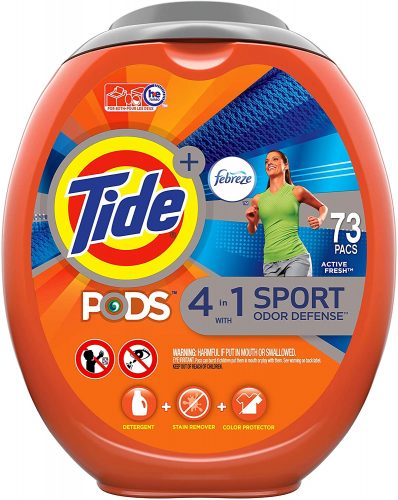 Steps to remove musty smell from clothes with Tide Sport Pods
Estimate Cost : $24.99 USD
Time Needed : 10 minutes
Open your washer and insert a single Tide Sport Pod into the washing machine

For bigger loads, insert 2 tide sport pods. For smaller to moderate batches of laundry, insert only a single Tide Sport Pod to effectively eliminate odor and clothe stains.

Load up the washer with your dirty laundry

After inserting the detergent pod into the washing machine, you now want to deposit your dirty laundry into the washing machine. Close the washing machine door to a complete seal.

Adjust the necessary washing machine settings

The setting for "normal" should suffice in effectively cleaning your clothes, unless you have a larger batch of laundry, you may want to opt for "bulk" wash, in which you would use 2 Tide Pods.

Start the wash and set an alarm for a reminder

You want to set an alarm to remind yourself when to transfer the clothes over to the dryer to make sure you don't have any soggy clothes sitting around to eliminate the chance of the mildew smell from contaminating the freshly washed laundry.
Final thoughts
In summary, the Tide Sports Pods are a game-changer. Try it out for yourself and see if you can tell the difference in your laundry from the detergent you use on the regular. The results may shock you.
---
Become an Insider
---
Podcast
---
Editorial Disclaimer: The editorial content on this page is not provided by any of the companies mentioned and has not been endorsed by any of these entities. Opinions expressed here are author's alone
The content of this website is for informational purposes only and does not represent investment advice, or an offer or solicitation to buy or sell any security, investment, or product. Investors are encouraged to do their own due diligence, and, if necessary, consult professional advising before making any investment decisions. Investing involves a high degree of risk, and financial losses may occur.
---