Advertiser Disclosure
This blog post may contain references to products or services from one or more of our advertisers or partners. We may receive compensation when you click on links to those products or services.
---
Looking for a Robinhood alternative to buy AMC shares? Introducing the Cash App.
What is Cash App?
Developed by Square Inc, the Cash App is in many ways like Venmo for spending and transferring funds from one user to another without any fees using any mobile phone. In other words, the Cash App is a direct peer-to-peer payment app with a unique twist in that you can also purchase stocks and cryptocurrency. Think of it like Venmo, but with the ability to partake in the stock market to purchase AMC stocks.
What is the best Cash App referral code for a free $5 sign-up bonus?
If you are a new user of the Cash App, by using the referral code: HFFBCJT you will be eligible to receive $5 in cash upon sign-up.
Note: You must send $5 or more to another Cash App user within 14 days to claim the $5 credit.
Using the Cash App referral code is optional, but note that once you sign-up, you no longer can claim the sign-up bonus. The sign-up bonus will only be activated the first time you register for an account so be sure to remember to claim the free sign-up bonus if you want the free $5 credit.
How to buy AMC stock with Cash App
1. The first step is to download the app and register for the Cash App. Install the Cash App to your respective iOS or Android mobile phone.
2. Fire up the app and you should be taken to a registration form to input a phone number or email address to sign-up. Be sure to apply the referral bonus code: HFFBCJT if it prompts you.
3. Now the Cash app will ask you to create a username for the app. Confirm a username and you should be good to go. You have officially created a Cash App account.
4. Input a debit card backed by a bank to link it to your Cash App account so you can send and receive funds whenever using your mobile phone.
5. Tap around and select the "Investing" tab. The screen should populate something similar to the following screengrab below.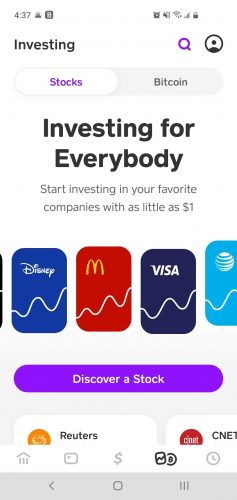 6. Type and search for the ticker AMC to buy AMC stocks at your heart's content using your linked debit card to the Cash App.
You have now the ability to officially resume buying AMC stocks.
---
Become an Insider
---
Podcast
---
Editorial Disclaimer: The editorial content on this page is not provided by any of the companies mentioned and has not been endorsed by any of these entities. Opinions expressed here are author's alone
The content of this website is for informational purposes only and does not represent investment advice, or an offer or solicitation to buy or sell any security, investment, or product. Investors are encouraged to do their own due diligence, and, if necessary, consult professional advising before making any investment decisions. Investing involves a high degree of risk, and financial losses may occur.
---