Advertiser Disclosure
This blog post may contain references to products or services from one or more of our advertisers or partners. We may receive compensation when you click on links to those products or services.
---
Chances are you have heard of crypto airdrops, but may have never participated in one and maybe anxious of hearing about free crypto being given to participants. You may be thinking it is too good to be true or most likely a scam. Fortunately, this post is here to debunk crypto airdrops and show you how to partake in one if you are broke or low on cash reserves.
If you have ample time on your hands and not much cash reserves, participating in free crypto airdrops can be a great way to get your hands on some crypto in exchange for your time. Thus, patience is key when choosing to opt for an airdrop because every airdrop has a different set of rules to follow to become eligible for the airdrop and timing is key.
What is a crypto airdrop?
A crypto airdrop is when a blockchain project distributes free tokens or coins to the crypto community. Once you follow their predetermined set of rules with your eligible crypto wallet, your wallet may be selected to be eligible for an airdrop automatically.
Introducing the FreeAirDrop App
The FreeAirDrop app notifies you of the latest airdrops among popular cryptocurrencies like Bitcoin, Ethereum, and other various altcoins among the crypto community. In order to partake and see the current upcoming airdrops, I highly recommend downloading the FreeAirDrop App or visit their website, FreeAirDrop.io.
Who knows, how much new and upcoming altcoins may be valued in the coming years with the explosion of growth in cryptocurrency in general.
How does do I know I got an airdrop?
You will know you successfully partook in an airdrop if the balance of your crypto wallet changes and you notice a transaction activity within your wallet. Think of airdrop opportunities as a contest or raffle. If you won, you will immediately notice an incoming transaction to your crypto wallet. Hence, the name "airdrop."
How do I enroll in an airdrop? (example)
Visit FreeAirDrop.io and select a live airdrop opportunity on its homepage.
Select the NFTb airdrop to view the airdrop rules and eligibility criteria
You should be directed to a page similar to the following to see an example crypto airdrop for demonstration purposes: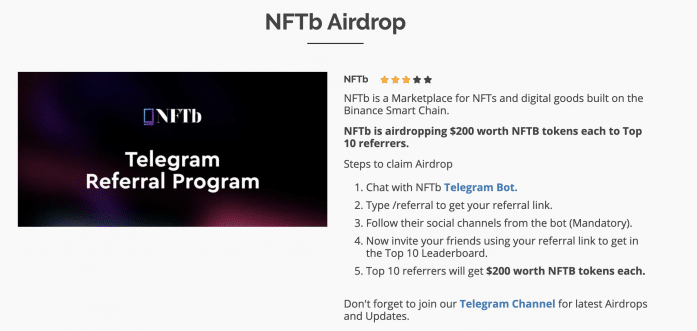 And that is it. Regularly visit the app or website to view the most up-to-date compiled list of comprehensive airdrops within the crypto community all in one accessible source.
Experienced partaking in an airdrop before? Feel free to share your experience with crypto airdrops below in the comment section.
Further reading and additional resources:
---
Become an Insider
---
Podcast
---
Editorial Disclaimer: The editorial content on this page is not provided by any of the companies mentioned and has not been endorsed by any of these entities. Opinions expressed here are author's alone
The content of this website is for informational purposes only and does not represent investment advice, or an offer or solicitation to buy or sell any security, investment, or product. Investors are encouraged to do their own due diligence, and, if necessary, consult professional advising before making any investment decisions. Investing involves a high degree of risk, and financial losses may occur.
---