Advertiser Disclosure
This blog post may contain references to products or services from one or more of our advertisers or partners. We may receive compensation when you click on links to those products or services.
---
Who knew that selling trendy clothes just collecting dust from your closet would be the "hip" thing to do for extra money as a side gig in the 21st century.
Fashion apparel reseller marketplaces like Depop, Poshmark, and Mercari are quickly becoming popular entities for consumers to explore entrepreneurship and make extra money. The allure is being part of a unique community centered around accumulating followers and becoming a social seller.
Social selling is using social media to directly influence interested buyers to reach sale targets. In this case, to resell unused apparel inventory just sitting in your closet. Think of becoming a social seller and these marketplace apps like Depop, Poshmark, and Mercari as Instagram, but for the purpose of promoting and selling fashion pieces from your closet.
Now the question is which marketplace should you use?

The case for Depop
Depop is an app-only marketplace tailored towards streetwear and vintage apparel enthusiasts. In 2019, Depop reported 13 million users used their app. There is a massive interest in popular brands such as Nike, Supreme, Patagonia, and even Gucci. Put simply, the target audience are looking for iconic, trendy clothing that is "in" with lots of brand recognition. I would describe the community as young adults with 80% of Depop users are under 25-years-old.
With Depop catering to such a youthful audience, there are some unique design elements of Depop's app that stand out from competing apps like Poshmark and Mercari. The community of Depop is obsessed with putting their own creative twist or style into their listings. See the link for an example Depop store for inspiration. So there is a strong emphasis on infusing a lot of style and personality into their stores. Put simply, a lot of creative expressions is done to stand out in the Depop community.
Depop fees
The listing fee for Depop is a flat 10%, notably competitive when being compared to competing for social selling platforms like Poshmark's 15% – 20% fee and Mercari's flat 10% fee. Depop will only charge you when an item sells on the entire merchandise cost plus shipping costs, which is standard in the industry.
Depop drawbacks
The only notable drawback of Depop is their limited catalog of brands. Chances are if you have a clothing piece that is from a smaller brand, it will be unknown to Depop. Depop mainly carries popular brands to list for sellers and have a less extensive categorization or tagging system.

The case for Poshmark
Poshmark has one of the biggest, active communities out of the three. Poshmark has over 40 million active users since the company's inception in 2011. The marketplace app looks and feels like a social media platform. You share, like, follow, and comment within the community, which looks and feels like an actual community. In order to sell inventory on Poshmark, you have to engage with your following base – a unique twist from traditional marketplaces. In other words, you must build a following and be active on Poshmark to see tangible results, which may be positive or negative depending on the person.
The target demographic that Poshmark caters to are typically millennials who like to shop. You will occasionally find nice finds or nuggets on Poshmark because sellers emphasize community. Sometimes you will even receive a personalized card from a seller due to the culture of being an active member of Poshmark. The sweet spot for pricing is generally within the $30 range.
Poshmark fees
Poshmark fees is typically on the heavier side when compared to competitors like Depop and Mercari. Postmark charges a flat $2.95 for items less than $15. For merchandise more than $15, Poshmark takes 20% of the entire sale. However, Poshmark provides you free prepaid shipping labels – in other words, free shipping, which evens out for the convenience factor.
Poshmark drawbacks
Poshmark market reach is only serviceable within the United States currently, which is quite impressive seeing that there are over 40 million active users that use Poshmark. Another point to be made is that it may take a while to accumulate a following to engage and become part of the community to be able to generate a sale.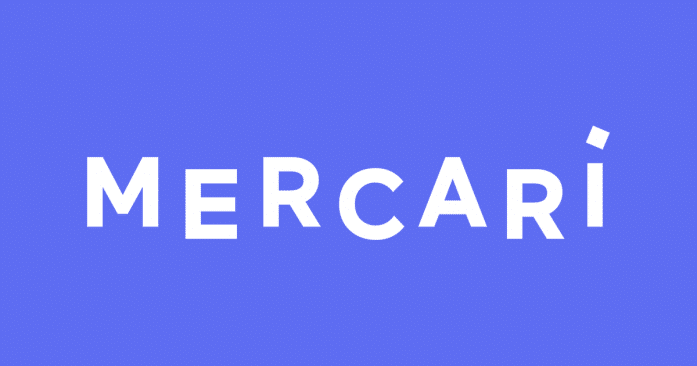 The case for Mercari
Mercari is basically the eBay of Japan. The marketplace app is a household product in Japan touted to be the "flea market" of selling goods. Prior to Mercari, there was no way to sell used goods. Now, Mercari has expanded outside Japan to the United States, and the United Kingdom.
At Mercari, you can expect to see a broader audience similar to that of eBay. Users of Mercari are just out there trying to look for a deal. Rarely will you see many designers or vintage goods on the site selling for a net profit. Mercari items do not necessarily have to be in mint condition even. Mercari prides itself on being a marketplace of used goods no matter the condition, which caters towards a very broad audience than the crowd that uses Poshmark or Depop. You will typically find non-branded, affordable apparel on the marketplace rather than fashion pieces that are hip and "in."
Mercari fees
Mercari has a flat 10% seller's fee once an item has been successfully sold. Mercari seller fees are among the lowest when compared to Poshmark's typically seller fees of 15 to 20%, making Mercari an attractive marketplace alternative to selling used goods.
Mercari drawbacks
Mercari's main audience is users from Japan, which may make eBay a more attractive option if you are based in the United States. Secondly, Mercari does not carry much designer apparel, which may mean your designer products may not see much success on the site due to the target audience looking for the best bang for their buck. In other words, if you have designer products, it may be in your best interest to consider Depop or Poshmark.
Depop vs Poshmark vs Mercari: who wins?
Each of these marketplaces caters to a different target demographic. Depending on the merchandise you are selling, you will be able to select the best marketplace for you – although listing your items across multiple sites is always preferred.
Depop – For designer and vintage apparel and streetwear targeted at the young generation Z audience. 80% of the demographic is under the age of 25.
Poshmark – For shopaholics looking for nice finds or nuggets within the sweet spot of $30. Poshmark is for millennial thrifters who like to shop a lot searching for the next look.
Mercari – Broad demographic that consists of users looking for non-designer apparel and goods. Users of Mercari are out there looking for a good deal, regardless of the item's condition.
---
Editorial Disclaimer: The editorial content on this page is not provided by any of the companies mentioned and has not been endorsed by any of these entities. Opinions expressed here are author's alone
The content of this website is for informational purposes only and does not represent investment advice, or an offer or solicitation to buy or sell any security, investment, or product. Investors are encouraged to do their own due diligence, and, if necessary, consult professional advising before making any investment decisions. Investing involves a high degree of risk, and financial losses may occur.
---