Advertiser Disclosure
This blog post may contain references to products or services from one or more of our advertisers or partners. We may receive compensation when you click on links to those products or services.
---
Ever wondered how much does the average Grubhub food delivery driver is getting paid?
Grubhub is currently one of the largest food courier services on the market in the United States facing stiff competition against food delivery companies such as DoorDash, Postmates and Uber Eats.
The question that begs to be asked is if it is Grubhub's pay is worthwhile to become a food delivery driver?
Here's how much you can make delivering food for Grubhub
Typically in the United States working for Grubhub as a food delivery driver in 2019 would net you $19.68 per hour according to Indeed after surveying 2,419 employees in the United States.
In other words, working for Grubhub full-time would net you an annual salary of $39,360 or $29,520, after tax.
Not bad for a food delivery job that can easily become a part-time side gig for supplementary income.
How Grubhub pay is calculated for food delivery drivers
As of 2019, Grubhub recently revamped their compensation model for delivery drivers. Total earnings will now take into account of time and mileage to complete a delivery. Plus, tips are always paid 100% in full to drivers.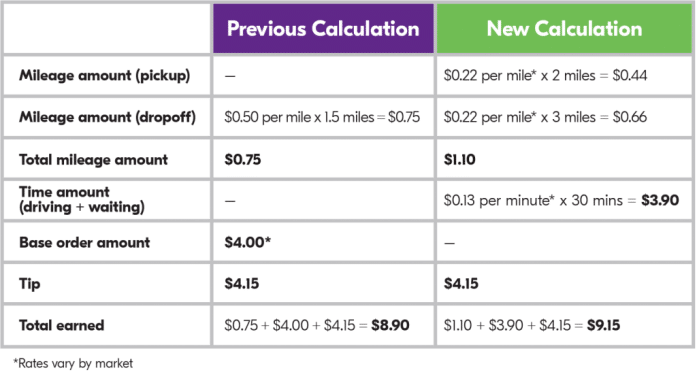 In words of Grubhub, "We'll now account for the time it's estimated to take and how far you're estimated to drive when compensating you for delivering each order."
Grubhub is constantly improving the way they are paying delivery drivers so it is important to keep up-to-date with their compensation model if you are a frequent delivery driver.
If you have extra time on your hands, becoming a food delivery driver for Grubhub can be a good idea to make extra income. So if you are still on the fence on whether you should become a delivery driver for supplementary income, the answer is yes, given time permits.
What if I don't have a car? Can I use a rental car to make money?
The answer is yes. We recommend using an established car rental program in HyreCar. HyreCar is the leading car rental company for gig economy gigs like Uber Eats, DoorDash, Postmates, and Instacart. Take advantage of this limited offer from HyreCar and claim a car rental today.
---
Editorial Disclaimer: The editorial content on this page is not provided by any of the companies mentioned and has not been endorsed by any of these entities. Opinions expressed here are author's alone
The content of this website is for informational purposes only and does not represent investment advice, or an offer or solicitation to buy or sell any security, investment, or product. Investors are encouraged to do their own due diligence, and, if necessary, consult professional advising before making any investment decisions. Investing involves a high degree of risk, and financial losses may occur.
---