Advertiser Disclosure
This blog post may contain references to products or services from one or more of our advertisers or partners. We may receive compensation when you click on links to those products or services.
---
Chances are if you landed on this page, you are a first-time Postmates delivery driver or are curious as to the process of delivering for Postmates. The anxiety may be kicking in and you may be anxious about your first order on what if it goes horribly wrong?
Have no fear, even if the worst possible outcome were to appear, by following this guide, you will be able to understand what to do in every situation, good or bad. Recognize that the nature of a food delivery service job is that at the end of the day it is a customer service job so communication, being prompt, and being kind will do wonders in improving your overall tip money and take-home pay. Tip alone can be upwards of 20-30% off your entire payment. Yes, tip money is a huge factor when counting Postmates driver pay.
How to sign-up using the best Postmates referral code for 2021?
If you haven't already, I recommend signing up for Postmates first and getting approved. The application process may take a couple of days in itself to get officially approved and running. Apply promo code FL-7LRIB to receive the highest Postmates Driver referral bonus upon sign-up.
How to prepare for your first Postmates delivery?
1. To get started with Postmates is extremely straight forward. The app is designed very similar to the Uber Eats app in that all you have to do to start receiving orders is hit the big "online" button on the Postmates app (see image below).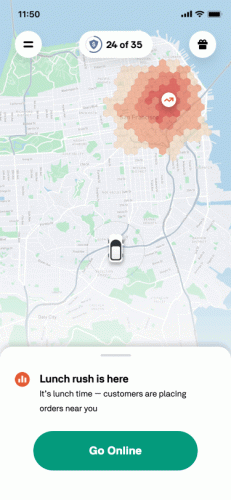 2. Once you are online, chances are you may receive delivery requests for a merchant and be shown the below. Accept the order if you would like to accept the upfront pay.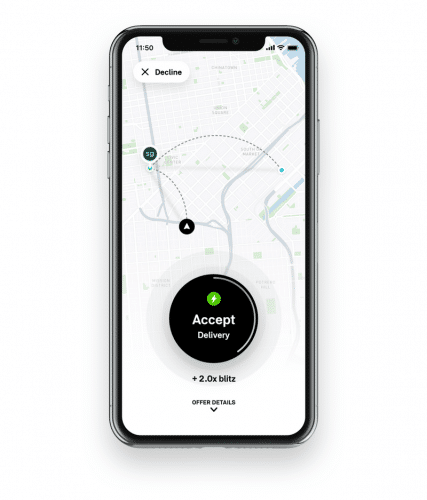 3. Once you accept a delivery, the Postmates Fleet app will prompt you to navigate to the store merchant and you should make your way there to pick-up the food for the customer.
4. Upon arrival of the store, you will notice on the app if the order is marked prepaid or not.
If it is marked prepaid, all you have to do is show the customer name or order ID to pick up and you are good to go.
If it is not prepaid though, you have to use your prepaid Postmates card pay the order for the customer to then pick up and go.
Because the majority of orders are all prepaid, chances are you got a prepaid order and you should be good to go for your first Postmates delivery order, but always keep a close eye if the order is prepaid or not.
5. Once the food is ready and you have picked up all the food items, hit complete pick-up as prompted by the app and now you can make your way to navigate to the customer to complete the delivery.
Note: Postmates driver themselves cannot handle food and look to see all the items are there. Simply, ask the cashier to double-check if you want to verify all the food items are there to ensure you have all the items picked-up or if you have a feeling you have the wrong order on hand.
6. Now, you are ready to drop-off your order. It is very important to read the drop-off instructions. Be sure to contact the customer that you have arrived to ensure a good tip because communication is key for a food delivery service job like Postmates.
Contact the customer and once the food has been handed over to the customer (if it is not specified to drop-off at the door or be contactless because of COVID-19), you can officially mark the order as complete. Nice, now you have officially completed your first Postmates food delivery order and that is all there is to it!
What is Blitz pay?
Blitz pay is another fancy word that Postmates coined to mean bonus pay multiplier. So whenever there is an order marked "Blitz pay" you are receiving a bonus on top of your regular base pay + tip. In order words, the calculation for your payout would be base pay + tip + Blitz pay. Nice, huh?
Insider tips on how to receive more tip money and earn more money with Postmates
Learn the roads and know where the most popular food plazas are to camp out
You want to camp out on the popular food plazas to snipe orders that are local and nearby. By having a number of backup hotpot food plazas in the back of your mind, you are able to get more orders because Postmates's algorithm heavily favors giving orders to nearby and local drivers. In order words, it definitely pays to know the roads and to be familiar with the neighborhood and roads you are driving in.
Communicate, deliver on time, read customer comments, and use a hot bag to keep food items warm
I have found that by following these four core principles when delivering, I was able to up my tip amount by a good percentage. Try it out and see if you see any notable uptick in tip money. Tip money is important because, in all likelihood, the majority of your earnings is probably at least 20% tip money on top of your regular base pay. Apply promo code FL-7LRIB for a sign-up bonus for Postmates.
---
Become an Insider
---
Podcast
---
Editorial Disclaimer: The editorial content on this page is not provided by any of the companies mentioned and has not been endorsed by any of these entities. Opinions expressed here are author's alone
The content of this website is for informational purposes only and does not represent investment advice, or an offer or solicitation to buy or sell any security, investment, or product. Investors are encouraged to do their own due diligence, and, if necessary, consult professional advising before making any investment decisions. Investing involves a high degree of risk, and financial losses may occur.
---