Advertiser Disclosure
This blog post may contain references to products or services from one or more of our advertisers or partners. We may receive compensation when you click on links to those products or services.
---
For those still new to the Crypto.com Exchange ecosystem, the platform is making major strides among the international audience in becoming one of the more streamlined crypto exchanges out there that offers deep liquidity, low fees, and best execution prices using their coveted cryptocurrency, CRO.
What does the Crypto.com Exchange offer?
The platform is extremely versatile and offers professional crypto traders advance trading tools, charts, and trading signals whether you are a day trader, swing trader, or someone who is just looking to capitalize on crypto's highs and lows. The crypto.com exchange is very remininant of the Coinbase Pro Exchange and should have no problem for users who are used to the competitor's user interface.
As of 5/22/2021, Crypto.com Exchange supports well over 75+ popular cryptocurrencies and even goes as far as supporting lesser-known altcoins like Shiba Inu Token (SHIB) and SushiSwap (SUSHI).
How to register on Crypto.com Exchange and claim the Crypto.com Exchange referral code signup bonus?
The first step is to visit the Crypto.com Exchange by clicking on this link to register for an account. Apply promo code fangwalletto receive the best and latest sign-up bonus. Earn an extra USD$10 Sign-Up Bonus when you stake 1000 CRO as first stake.
Shortly after entering the forms on the registration page, you will be prompted to verify your identity and provide some personal information. Your email address will be used to send you a confirmation link, and your date of birth and country of residence helps us make sure you're eligible. Users must be at least 18 years old.
Click on the Continue button. An email verification containing a one-time password (OTP) will be sent to your registered email. Check your inbox to confirm your registration.
Enter the OTP into the Crypto.com Exchange to confirm your email.
Create your password for the Exchange and click Submit.
The last step is to verify your phone number. Select the area code of your country using the dropdown, then input your phone number (without the area code). You will be sent an SMS verification code to enter. Input the code you receive into the field, then select Submit. 
You're done! You will be redirected to the Exchange landing page. If you are looking for the Crypto.com App tutorial, follow this link to discover the difference between the Crypto.com Exchange vs Crypto.com App.
What are the Crypto.com Exchange Fees?
Compare the 0.40% interest rate to other cryptocurrency exchanges on the market like Coinbase's 1.49% and Coinbase Pro's 0.50% maker's fee. The cool thing about Crypto.com's fees is that the fees can be discounted or be brought down to as low as 0.135% if you are holding at least $50,000 in investments.
As of May 26, 2021, the fees table is the following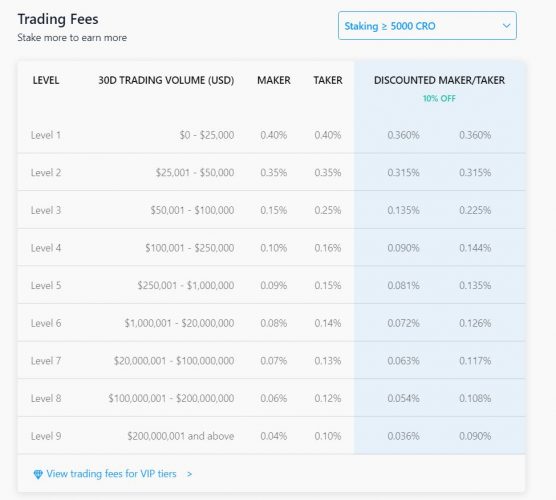 How trustworthy and secure is the Crypto.com Exchange?
Crypto.com Exchange offers state of the art security for its crypto trading platform. Crypto.com supports Multi-Factor Authentication (MFA), which means transactions are protected by MFA, which includes password, biometric, email, phone, and authenticator verification.
Crypto.com Exchange was built on the philosophy that security always comes first with its Zero Trust, Defense in Depth security strategy Data privacy assessments are taken very seriously.
Security Certificate
Crypto.com is built on a solid foundation of security, privacy and compliance and is the first cryptocurrency company in the world to have ISO/IEC 27701:2019, CCSS Level 3, ISO/IEC 27001:2013 and PCIDSS v3.2.1 Level 1 compliance, and independently assessed at Tier 4, the highest level for both NIST Cybersecurity and Privacy Frameworks. Crypto.com has also engaged globally recognised security consulting and auditing firms like Kudelski Security to stress test and audit our core Blockchain systems.

Crypto.com Exchange
100% of user cryptocurrencies are held offline in cold storage.
Crypto.com has a strategic partnership with Ledger, integrating its institutional-grade custody solution, Ledger Vault. We also leverage hardware security modules (HSM) and multi-signature technologies. Crypto.com has secured a total of USD 360M in cold storage insurance against physical damage or destruction, and third-party theft.

Crypto.com Exchange
---
Become an Insider
---
Podcast
---
Editorial Disclaimer: The editorial content on this page is not provided by any of the companies mentioned and has not been endorsed by any of these entities. Opinions expressed here are author's alone
The content of this website is for informational purposes only and does not represent investment advice, or an offer or solicitation to buy or sell any security, investment, or product. Investors are encouraged to do their own due diligence, and, if necessary, consult professional advising before making any investment decisions. Investing involves a high degree of risk, and financial losses may occur.
---