Advertiser Disclosure
This blog post may contain references to products or services from one or more of our advertisers or partners. We may receive compensation when you click on links to those products or services.
---
As you guys may have seen already, I did a lot tweaking and redesigned several digital assets on my blog to make the overall layout and design look cleaner and sleeker. It was a battle to get everything up and running, but I'm happy how the design of the blog turned out. Feel free to comment or drop any constructive feedback on the redesign. It will be greatly appreciated!
Anyhow, while tweaking my blog, I thought about going back to my roots and wanted to blog about the easiest way to start a blog and its benefits. Have you ever thought about starting your own blog? Because I sure didn't, until I realized you can make money blogging. Who said money couldn't buy happiness?
But in all seriousness, there are many advantages to owning a blog. I won't get too much into detail, but here is an outline of some benefits.
You can make money, enough said.
If your blog grows big enough, you have the freedom and flexibility to work anywhere there is a computer and Internet accessible
Blogging is actually a nice activity to destress after a long day, at least for me.
Blogging intellectually exercises the brain, especially after college
Exposure to blogging groups and networking opportunities
You have an outlet to voice your opinion
Exposes you to web development, advertising industry, and even industries you are blogging about
And the list goes on…
So, I thought about making a tutorial on how to set-up a blog the easy way, through WordPress! When I first started blogging, I started off with shared web hosting and used a web hosting provider in HostGator and a number of other web hosts I don't want to recall. I won't dig deep into the nitty-gritty, but know that shared web hosting is generally a great affordable solution, especially for those new to blogging. Once the project takes off, then you should look into more advanced options. At the moment, I would focus on cost, and HostGator fits the bill! Starting a blog with HostGator for the first month is just one penny. That is right, $0.01. Your wallet will thank you.
---
Become an Insider
---
How to start a blog with HostGator

The first step is to sign-up for a HostGator account.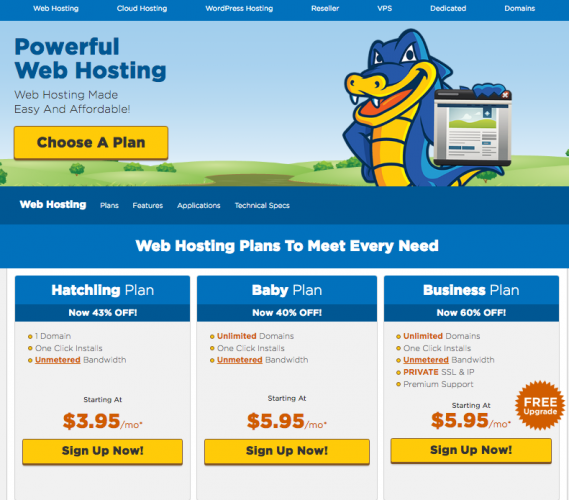 The second step is to choose a plan. I highly recommend to choose the 'Hatchling' plan to take advantage of the 'one penny for the first month' offer with HostGator to get a taste of blogging for little to no cost to you.

Now you get the fun task of brainstorming a domain name for your website. Feel free to take your time! Shortly after you should be asked to fill out your account information and provide a valid payment method. Don't forget to input the HostGator discount codes for this month.
ONECENT - One month of Hatchling web hosting
25MODEL - 25% off all web hosting packages
SPRING2017 - Up to 60% off + 4.99 on select domains

After you are brought to the order confirmation page, you should be emailed details of your Cpanel login and password to your email. For those who don't know what Cpanel is, it is a easy-to-use interface platform you will be using to manage your web server needs. No coding or scripting knowledge needed!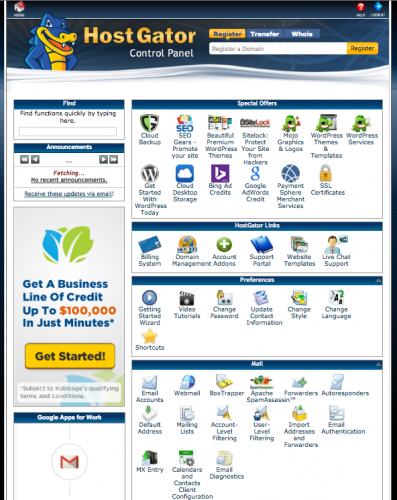 Your Cpanel should look something like the image above. The first thing you should notice is the 1-click 'WordPress Installation' on your cPanel dashboard. Installing WordPress with cPanel is a breeze because you don't have to touch any of the coding files or databases. You will just be prompted to enter information about your new blog.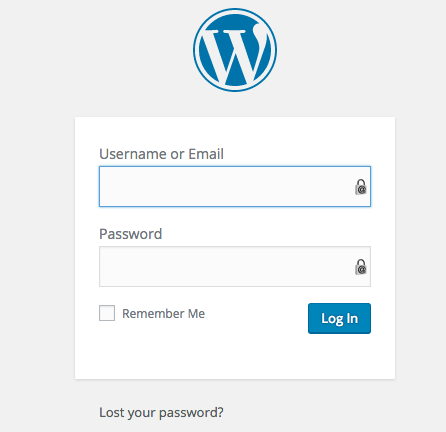 After the installation of WordPress is complete, you should be redirected to a page similar to the illustration above. Simply login to your WordPress blog for the first time and voila! You have successfully made your own WordPress blog in matter of minutes.
I highly recommend giving blogging a shot. It may be more enjoyable than you think. The sky is the limit.
---
---
Editorial Disclaimer: The editorial content on this page is not provided by any of the companies mentioned and has not been endorsed by any of these entities. Opinions expressed here are author's alone
The content of this website is for informational purposes only and does not represent investment advice, or an offer or solicitation to buy or sell any security, investment, or product. Investors are encouraged to do their own due diligence, and, if necessary, consult professional advising before making any investment decisions. Investing involves a high degree of risk, and financial losses may occur.
---