Advertiser Disclosure
This blog post may contain references to products or services from one or more of our advertisers or partners. We may receive compensation when you click on links to those products or services.
---
Joining a rideshare gig app like DoorDash as a driver can be a great way to make supplementary income in addition to your full-time job. Anyone can become a DoorDash Driver as long as you have a car, bike, or scooter and have a clean background. In other words, as long as you have two legs you are good to go. The process of becoming a first-time dasher is as simple as installing the DoorDash Driver app and once approved, you can start dashing right away!
How to prepare for your first DoorDash delivery?
You are probably anxious and nervous about your first DoorDash order as a new dasher and don't want to mess it up – maybe even read tons of guides online already. Have no fear, messing up a DoorDash order isn't end of the world and most customers are understanding, regardless, so realize that there is no reason to be anxious.
When you fire up the DoorDash driver app, you will quickly be brought to a map. If you would like to start dashing right away as your first dash, you simply toggle the map to a region you want to do deliveries for. If the map is gray-colored, that means there are no orders currently. If the region is red-colored, it means there are orders available and dashing activity occurring.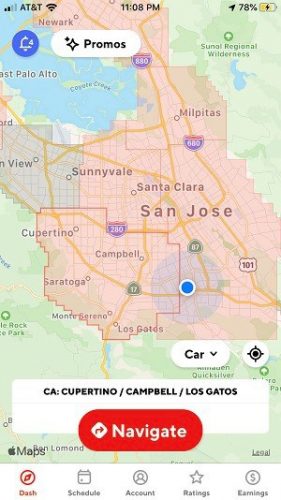 You want to select regions that are red and have higher rates. Sometimes you may even notice hot spots, which are areas with the highest pay. I have found that hot pots are sometimes deception because it may lure in more drivers, causing there to be many fewer orders and an overabundance of drivers. The key is to test different areas and determine your best ROI for your time – not let the app dictate what will pay you the most for your time. It is all about calculating efficiency, gas, and time.
Schedule yourself to a location and time slot for more pay
DoorDash is flexible, but you are able to schedule yourself to a location and time slot so you may receive additional peak pay by selecting the "Promos" tab on the top of your app. For example, a region may only pay regular rates plus tips. But because you scheduled yourself in advance, you are now able to earn an additional 3$ per order you complete. In other words, it pays to pencil yourself in a routine and schedule yourself to earn more bucks!
Figure out if you only want to do peak hours or all hours
Peak hours, where rates for each order have an additional $1-$5 payout for each order, traditionally occurs during the busiest times of the day, which is around lunch or evening hours. Take note and be wary of these hours and decide which hours are worth your time. You may want to only do peak hours or all regular hours. The choice is ultimately up to you.
How to get the most DoorDash tips from customers?
The base pay you get per order traditionally doesn't change much unless you are doing peak pay or penciling yourself in for a time shift, but how most people get most of their high pay with DoorDash is through customer tips. To maximize the number of tips you receive per order, I have found the following to be effective.
Clear-cut communication via text upon pick-up and dropoff in advance
On-time deliveries within the time limit
Reading the notes that the customer leaves on the order and following them
If the item is hot, using the hot bag that DoorDash gave you
By following these tip recommendations, you can increase the number of tips you receive by 2 or 3 times. Who knows, you may even receive a unicorn tip one day (unicorn tip is an abnormally high tip from a customer).
Once approved, do I need to wait for a DoorDash red card?
You may have been instantly approved and may be waiting on some DoorDash merchandise to be shipped to you like the hot bag and red card and you may be asking yourself if you have to wait for them in order to start dashing. The answer is no! You can start your first dash right away regardless if you have the red card or not. You will only receive red card orders when you link the red card to your Doordash Drivers account.
What are DoorDash red card orders vs regular orders?
Doordash red card orders are orders where you have to use the red card to pay for the food. Regular orders are already paid for in advance and require no payment because the restaurant is already a partner of DoorDash and is already paid for. In other words, as the DoorDash driver, you have to wait in line to pay for Doordash red card orders, but not for regular orders. For regular orders, it is just a simple pick-up.
Final tips on what to bring before completing your first Doordash order
I recommend bringing a book or something to do for the downtime in between orders. Sometimes there won't be continuous back-to-back orders. In terms of items on what to bring, definitely bring your phone, a full tank of gas, a phone battery charger, and perhaps even an external battery. I have found these items to be the most vital and helpful during my dashes.
Lastly, always eat and be on a full stomach before dashing. You definitely do NOT want to touch the food you are supposed to deliver. Happy dashing!
What if I don't have a car? Can I use a rental car to make money?
The answer is yes. We recommend using an established car rental program in HyreCar. HyreCar is the leading car rental company for gig economy gigs like Uber Eats, DoorDash, Postmates, and Instacart. Take advantage of this limited offer from HyreCar and claim a car rental with auto insurance options today. 


Disclaimer: For Illustrative purposes only, actual earnings may differ and depend on expenses. Hourly pay is calculated using average Dasher payouts while on a delivery (from the time you accept an order until the time you drop it off) and includes compensation from peak pay, tips, and other incentives.
---
Podcast
---
Editorial Disclaimer: The editorial content on this page is not provided by any of the companies mentioned and has not been endorsed by any of these entities. Opinions expressed here are author's alone
The content of this website is for informational purposes only and does not represent investment advice, or an offer or solicitation to buy or sell any security, investment, or product. Investors are encouraged to do their own due diligence, and, if necessary, consult professional advising before making any investment decisions. Investing involves a high degree of risk, and financial losses may occur.
---