Advertiser Disclosure
This blog post may contain references to products or services from one or more of our advertisers or partners. We may receive compensation when you click on links to those products or services.
---
If you haven't heard the news already, Chase has confirmed revamping the benefits for the Chase Unlimited and Chase Freedom credit cards that will begin on September 13, 2020. The product changes can be requested on September 13 for existing cardholders as well.
For once, the product change to the credit card is actually an upgrade in my book. An upgrade worthy of having the Chase Unlimited credit card sit within my wallet for daily spending. Let's do a rundown of the new perks and changes to the Chase Freedom and Chase Freedom Unlimited.
---
Become an Insider
---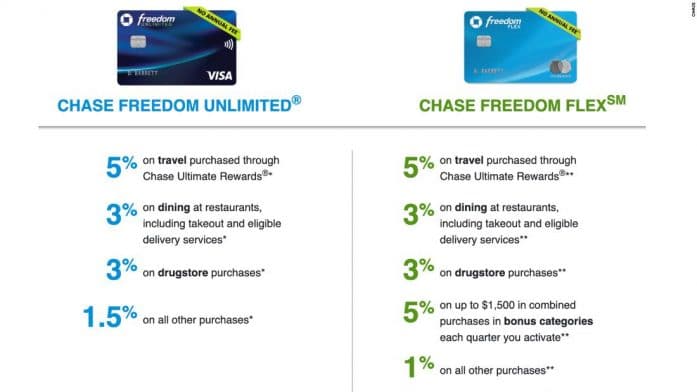 New Additional Chase Freedom Unlimited Perks
5% on travel
3% on dining
3% at drug stores
The original bread and butter, 1.5% cashback perk of the Freedom Unlimited will still apply, effectively making the added perks a major upgrade to the no annual fee credit card. All of a sudden the Freedom Unlimited is competing against premium cards like the Chase Sapphire Reserve that offer similar 3% to dining and 5% to travel, but without the annual fee.
New Additional Chase Freedom Flex Perks
5% on travel
3% on dining
3% at drug stores
The original bread and butter of having rotating quarterly bonus categories still applies along with the 1% of every other purchase. I am a huge fan of these added perks because now the no-annual-fee card is becoming much more incentivizing to put all your spending on one credit card for the convenience factor alone.
Notable changes to the Chase Unlimited and Chase Freedom cards
The Chase Freedom card will now be known as the Freedom Flex, whereas the Chase Unlimited will retain its original name.
The Freedom Flex will be a Mastercard, whereas the Chase Unlimited will remain a Visa credit card for the time being.
The fact that the new Freedom Flex is a Mastercard, enables cardholders to be eligible for Mastercard perks ($10 Lyft credit for every 5 rides, $800 cell phone insurance, etc)
Both cards continue to have no annual fee, despite the added and revamped perks.
Should I apply for the Freedom Flex or Freedom Unlimited?
My honest opinion is to apply for both. Each of the cards serves different purposes. The rotating categories of the Freedom Flex enable you to benefit greatly from quarterly 5% categories, whereas the Freedom Unlimited can be used for your everyday spending needs on one card for the convenience factor. You cannot lose if you have both cards, not to say they both don't have any annual fees. It's a win-win.
---
---
Editorial Disclaimer: The editorial content on this page is not provided by any of the companies mentioned and has not been endorsed by any of these entities. Opinions expressed here are author's alone
The content of this website is for informational purposes only and does not represent investment advice, or an offer or solicitation to buy or sell any security, investment, or product. Investors are encouraged to do their own due diligence, and, if necessary, consult professional advising before making any investment decisions. Investing involves a high degree of risk, and financial losses may occur.
---