Advertiser Disclosure
This blog post may contain references to products or services from one or more of our advertisers or partners. We may receive compensation when you click on links to those products or services.
---
SoFi, poised for a breakout IPO, is likely to be selling its shares early to eager investors. For investors, that is music to their ears because FinTech is making a very strong showing in the stock market as of late among Wall Street.
The most notable example is companies like Upstart, which started off at a $44/share at the beginning of its IPO on December 16, 2020. As of April 30, 2021, Upstart shares are now worth $109.02 apiece, effectively a 273% net increase in valuation. Pretty neat right if you purchased Upstart shares at the beginning of the IPO right?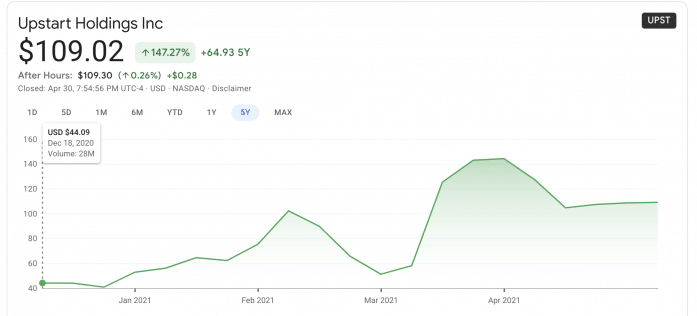 Be wary that this post may be rather speculative and heavily biased with my thoughts of SoFi as a product, service, and disruptor in the FinTech industry. Thus, I highly encourage others to do their own research and due diligence before making a financial decision or investment into SoFi stock pre-IPO.
What is SoFi?
SoFi prides itself in being the number one mobile-first personal finance app to help consumers improve their credit and take advantage of financial well-being towards financial independence. Financial products and services that SoFi offers to the general public include student loan refinancing, mortgages, personal loans, credit cards, investing, and banking both through their simplified mobile app and desktop interfaces.
SoFi's mission is to help people reach financial independence to realize their ambitions.


And financial independence doesn't just mean being rich—it means getting to a point where your money works for the life you want to live.

Everything we do is geared toward helping our members get their money right. We're constantly innovating and building ways to give our members what they need to make that happen.
SoFi announced that any member of SoFi Investing who carries a balance of over $3,000 will become eligible to partake in early investments in SoFi's Pre-IPO sale at their own choosing.
SoFi has outlined step-by-step on their blog how to partake in the sale, but for the folks who would like a quick summary or TLDR, follow the steps below to be able to participate in SoFi's pre-listing stage stock offering.
For those interested in SoFi's limited $50 sign-up bonus promotional offer they are currently running, to become eligible you need to be a new user of SoFi Investing and deposit at minimum a $5,000 deposit.
SoFi Members who are interested in the pre-listing stage stock offering will be asked to fill out a preliminary questionnaire about SoFi's pending IPO. This Indication of Interest or IOI helps issuers gauge and fulfill demand, but it's non-binding and does not represent commitments. In other words, SoFi Members will not be obligated to actually purchase the shares before the IPO date.
The second step is to download the SoFi mobile app and register for a SoFi Investing account. To claim the free $50 sign-up bonus with SoFi Investing, you must deposit at least $5,000 in funds and be a new customer.
Once you have the SoFi App installed, tap onto the "Investing" tab to "IPO Investing" and you will be prompted to fill out an interest form of how many SoFi shares you may be interested in purchasing.
On the day prior to IPO opening day, those who have expressed interest in purchasing shares or units early will be able to do so at their own discretion. SoFi's app will alert you of this event when the occasion occurs so having the app installed at all times is a must.
How to Buy IPOE SPAC
Sofi Investor Relation's Twitter announced that the SPAC, IPOE, will convert and rebrand as the ticker SoFi on May 28. You can buy and purchase IPOE stock at any popular brokerage. Simply lookup the ticker symbol, IPOE, and after May 28 the vote will take place, and most likely by early June 2021, the IPOE ticker will rebrand as SoFi if you would like to get in the price action early and invest in SoFi.

Frequently Asked Questions
What's a SPAC?

Special Purpose Acquisition Companies (SPACs) are shell companies that don't have any purpose or operating business other than to purchase a designated private business for investors to pool their funds into to bring designated private business into the public stock market. In the case for SoFi, a SPAC, IPOE, already exists for those who want to get in on the action early before the merger or even the pre-listing SoFi stock offering sale.

Stock shares are exactly what you think of when you purchase traditional shares, regular equity. Stock units on the other hand are a bit different. According to SoFi's blog, "A warrant gives holders the right to purchase more shares at a set price on a later date. Warrants are given as additional compensation to pre-listing SPAC investors for agreeing to have their capital held in a trust until the merger."

SoFi members may express their interest to purchase as many shares as they would like, however, due to supply and demand on the day of SoFi's IPO, given the limited quantity of IPO shares or SPAC units, SoFi may not be able to fulfill every order.
---
Become an Insider
---
Editorial Disclaimer: The editorial content on this page is not provided by any of the companies mentioned and has not been endorsed by any of these entities. Opinions expressed here are author's alone
The content of this website is for informational purposes only and does not represent investment advice, or an offer or solicitation to buy or sell any security, investment, or product. Investors are encouraged to do their own due diligence, and, if necessary, consult professional advising before making any investment decisions. Investing involves a high degree of risk, and financial losses may occur.
---