Advertiser Disclosure
This blog post may contain references to products or services from one or more of our advertisers or partners. We may receive compensation when you click on links to those products or services.
---
I have always been curious about gig apps like Instacart and Doordash. So for today's post, I actually went ahead and tested out how being a personal shopper with Instacart would look like for 4 hours straight in a popular city like San Francisco, CA.
The verdict? Truth be told, I actually enjoyed the day-to-day of being a part-time personal shopper, and honestly think you can make good money from the Instacart app too. I enjoyed the experience so much that I am now regularly doing Instacart batches whenever I feel like earning extra money as a side hustle, even during the coronavirus pandemic.
Ever since the start of coronavirus, delivery apps that deal with transportation and logistics have seen their demand spike to all-time highs. This is mainly because all of sudden, delivery personnel are now basically essential workers who are now catering to a vulnerable populace, driving demand to an all-time high. Only recently did Instacart receive a $13.7 billion evaluation as well due to the insane activity the company is experiencing since the pandemic, which is rightfully deserved.
Because of the pandemic, many people are tipping much higher than normal, which is creating an increase in pay for Instacart drivers. I can easily see pros average up to $30/hour after trying out Instacart for myself firsthand.
Here is proof of my $93.74 earnings from Instacart within 4 hours of gig work.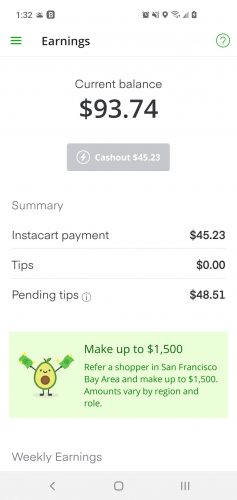 Now that you believe me, you may be asking how I achieved a $23.43/hour rate just through the app. The truth is not everyone will earn this pay rate. The key is you have to be strategic with every batch order you accept from Instacart in order to maximize your time and earnings. Time is money when being a personal shopper.
Individuals who have a car, aren't ages over 50+, and aren't living with or caring for a loved one who is deemed vulnerable, are prime candidates to benefit from Instacart peak earnings during the pandemic. The rule of thumb is to continue to follow good hygiene like handwashing with soap, using hand sanitizer, and regularly wearing face coverings or n95s within the grocery stores to reduce the likelihood of infection is the way to approach deliveries during coronavirus times.
How do I get an Instacart referral code for a driver sign-up bonus?
You probably now want to try out Instacart. No worries, signing up is completely free and sometimes Instacart has promotions for new drivers. Click and apply with the link below to check if there is a sign-up bonus for your region. Apply referral bonus code: EFANG291CF
Note: You won't be able to check how much the sign-up bonus is until you have been approved for an Instacart Shopper account and view your promotions on your account via the Shopper app.
How to earn top dollar with Instacart
Many individuals are tipping top dollar on Instacart during the pandemic. Here are some of the more effective strategies and tactics I've learned to boost my earnings per hour.
Be mindful of driving time. Before accepting an order, preview the distance you would have to drive to the store and the distance from the store to the customer's home or apartment.
Be picky with batch orders you accept and be patient. The rule of thumb I try to follow is for every $1 that the order has, there can be one unit item. The fewer units, the better because that means less shuffling within the store scavenging for items. Again, time is money.
Be familiar with the aisle numbers with the stores you are shopping for in order to find items you are hunting down quicker. The app sometimes shows the aisles number for some stores so be very aware of those helpful hints in the app.
Use Instacart's bar code scanner to ensure you are finding the right item and size.
Read aisle signs and take advantage of customer assistance when you can't find an item.
Choose batch orders that are within close proximity to your location to reduce the amount of gas needed and time spent driving.
Communicate clearly and effectively with the customer if you can't find an item and may need to substitute the item for another because of the store not carrying the item any more or the item is just not available.
Drive with a full tank of gas and bring an external battery charger because you will be on your phone a lot in the grocery store.
Fire up Google maps and be familiar where all the neighboring locations are so you don't miss out on good batch opportunities from competition from other Instacart shoppers.
Deliver the groceries on-time and if you run into something unexpected, communicate accordingly to get a time extension.
Follow the $1/item unit rule when selecting a batch order. For example, if someone orders 20 items with 30 units and is offering $30 compensation, you want to accept the order because it fulfills our criteria.
Prioritize your to-do list by groups like for example, produce first, diary second, etc.
When gathering produce, weigh all your produce items at the end to become more time-efficient.
My final thoughts
I honestly believe even if you are working a full-time job, the money earned from Instacart can be a great additional source of supplemental income. The earnings really add up over time and being a part-time personal shopper is a pretty enjoyable experience if you have downtime and enjoy grocery shopping.
I hope you guys enjoyed these tips and hearing about my Instacart journey so far. Feel free to share your own Instacart tips and/or story in the comments section below too. I'd be interested in reading them.
---
Become an Insider
---
Podcast
---
Editorial Disclaimer: The editorial content on this page is not provided by any of the companies mentioned and has not been endorsed by any of these entities. Opinions expressed here are author's alone
The content of this website is for informational purposes only and does not represent investment advice, or an offer or solicitation to buy or sell any security, investment, or product. Investors are encouraged to do their own due diligence, and, if necessary, consult professional advising before making any investment decisions. Investing involves a high degree of risk, and financial losses may occur.
---