Advertiser Disclosure
This blog post may contain references to products or services from one or more of our advertisers or partners. We may receive compensation when you click on links to those products or services.
---
Figuring out which is the best cashback shopping site may net you a substantial amount of cashback, especially if you are one to do a lot of shopping online. With many cashback shopping sites like Rakuten and BeFrugal offering cashback on over 2,000+ eligible store vendors, chances are you may be missing out on some hefty rebates on your online purchases.
What are cashback shopping sites?
Online cashback shopping sites are awesome in that they compensate consumers for shopping. In other words, some of the affiliate earnings or pie that would normally go towards the publisher and advertiser pockets gets shared with you, the consumer. What does this all mean? More money for you to shop with every online purchase you make at an eligible store vendor.
For example, you may be shopping at Macy's and you see that your favorite handbag is on sale for $100 and notice a 10% cashback rebate offer for Macy's. By clicking on the 10% cashback rebate offer, you will netback $10 upon the successful purchase of the handbag at Macy's.
As you can see, the savings and rebates can add up really quickly.
Rakuten vs BeFrugal Comparision
BeFrugal Review
For those who aren't aware of BeFrugal, it is one of the top-paying cashback shopping sites on the web in 2020. BeFrugal is a coupons, discounts, and rebates shopping site, which enables consumers to make money off online purchases they would normally make.
Think of Befrugal as a direct competitor to Rakuten, who has been a leader in the online shopping cashback space for a while now. However, due to BeFrugal now offering much higher compensation rates per eligible store vendor, beating even Rakuten at times, the contest for the best cashback shopping site is getting extremely close.
Moreover, BeFrugal makes reminding you of cashback opportunities and redeeming simple with their Chrome plugin. By installing the Chrome plugin, you benefit from the best of both worlds and have any eligible store coupons stack on top of any cashback offer. In other words, if that Macy's bag had a 10% store coupon offer and a 10% cashback offer from BeFrugal, they would both stack, effectively saving you a good amount of spending money.
Pros of the BeFrugal cashback Chrome plugin
Easy-to-use all-in-one solution
Instantaneous cashback reminders
Mobile-friendly
Very generous cashback rates across select qualifying merchants topping even Rakuten or Honey cashback rates
Frequent promotions
Underdog cashback website commonly used within the frugal community
Rakuten Review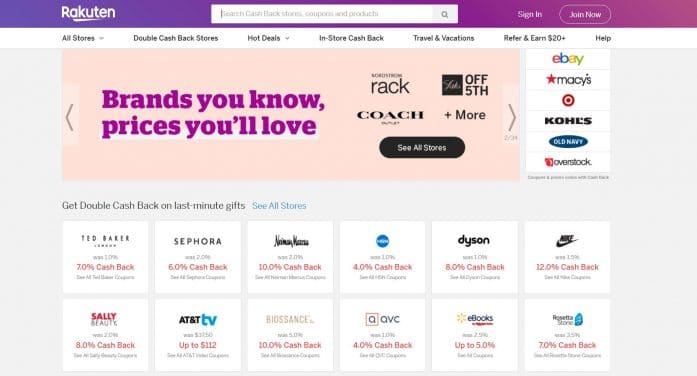 Rakuten is one of the leading coupons and cashback rebates websites for a while now. The benefit of the widespread use of Rakuten means that about every purchase you make online at a qualifying store merchant will net you a significant amount of cashback. Moreover, Rakuten has a reputation for offering lucrative double cashback events in which the regular cashback percentage offered for participating merchants double, which is always a plus.
Pros of the Rakuten cashback Chrome plugin
Easy-to-use all-in-one solution
Applying existing coupons through a click of a button
Frequent cashback reminders
Good customer service
Lots of cashback promotions and an overall high percentage of payouts per merchant
Mobile-friendly
Which is the best cashback shopping site?
Both BeFrugal and Rakuten. I know you will hate this answer, but let me explain and clarify.
Over the years, the rate of high-paying offers has dipped compared to competing sites like BeFrugal. As a result, I strongly recommend joining both cashback sites to effectively maximize the number of cashback offers you can participate in. Gone are the days where the best cashback shopping site was a monopoly in Rakuten. Now many of the competitors like Honey and BeFrugal have extremely competitive cashback offers and consumer bases.
The rule of thumb is to research which site pays more cashback for the eligible store vendor you are shopping at and go from there. Earning money on your online purchases in 2020 is the smart way to shop.
---
Become an Insider
---
Podcast
---
Editorial Disclaimer: The editorial content on this page is not provided by any of the companies mentioned and has not been endorsed by any of these entities. Opinions expressed here are author's alone
The content of this website is for informational purposes only and does not represent investment advice, or an offer or solicitation to buy or sell any security, investment, or product. Investors are encouraged to do their own due diligence, and, if necessary, consult professional advising before making any investment decisions. Investing involves a high degree of risk, and financial losses may occur.
---