Advertiser Disclosure
This blog post may contain references to products or services from one or more of our advertisers or partners. We may receive compensation when you click on links to those products or services.
---
Jake Paul is an social media personality, actor and comedian who has net over $11.5 million according to Forbes. Jake was born in Cleveland, Ohio and is brothers with Logan Paul. His brother is also a YouTube celebrity, but most recently gained massive attention for showing a dead body in one of his videos during his trip to Japan's suicide forest. Jake first got his social media career launched when Vine was around in 2013. By the time Vine shut down, Jake had already amassed 5 million subscribers.
How does Jake Paul make money on YouTube?
YouTube pays video content creators depending on the amount of views videos receive. In simple terms, advertisers are willing to pay big bucks to display their advert creatives to video viewers. The fact that Jake Paul has over 16 million subscribers as of July 28, 2018 is absolutely nuts. Not to mention, Jake Paul has a number of other social media profiles that have a large following too. However, for the purpose of this post, the focus will be on his estimated YouTube earnings and how much Jake Paul makes per YouTube video on average.
Approximate annual pay & net worth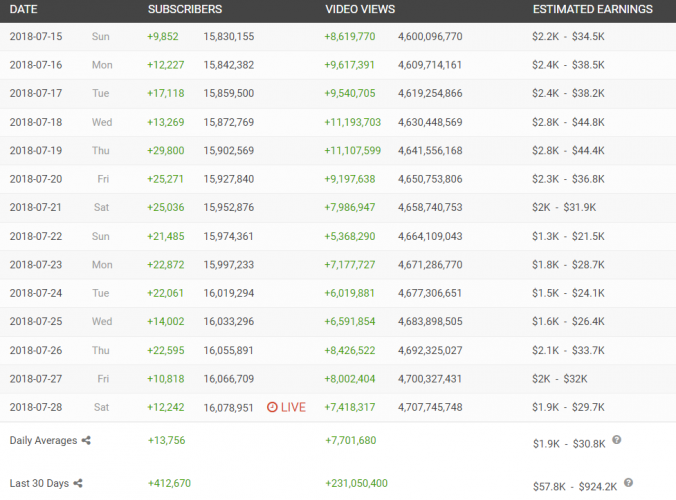 According to SocialBlade, Jake Paul makes an estimated minimum of $57,000 to $924,200 a month. Forbes has already confirmed that Jake Paul has surpassed over $11.5 million in 2017. Seeing that the CPM (cost per thousand view) can range up to $4 per thousand YouTube views, Jake Paul is most likely making much more than what has already been estimated from YouTube alone.
Sponsorship and merchandise that Jake Paul sells is not even included in this figure, which goes to show that being a video content creator can be very lucrative indeed.
Fun fact
Disney saw potential in Jake Paul and hired him to appear in a sitcom called, Bizaardvark. The partnership was short-lived once Disney had learned that Jake threw major parties that constantly disturbed the neighborhood, which didn't fit with Disney's interests.
---
Become an Insider
---
Editorial Disclaimer: The editorial content on this page is not provided by any of the companies mentioned and has not been endorsed by any of these entities. Opinions expressed here are author's alone
The content of this website is for informational purposes only and does not represent investment advice, or an offer or solicitation to buy or sell any security, investment, or product. Investors are encouraged to do their own due diligence, and, if necessary, consult professional advising before making any investment decisions. Investing involves a high degree of risk, and financial losses may occur.
---